So apparantly the Milwaukee Set Dance Club holds a Mid Winter Set Dance Weekend every year in February and well athas has done its share of playing for dancers and so they figured it was time to lace up their dancin' shoes and get on the dance floor! Yeah, you better believe it Heather, Amy and Jeff all participated in the Set Dance weekend taking early morning workshops with Irish Set Instructor Mary Clancy (she was such a sweetheart) and then dancing late into the evenings with the late night ceili's w/John Whelan (PHENOMENAL Trad Button Accordian player).
Little did our Amy know that Mr. Whelan would hear her drumming during athas' lil ditty during registration Friday night and like it enough to invite her to play alongside him onstage for the ceili! As surreal as it was for Ms. Amy she can definitely say it was an experience she will never ever forget ... as I think the other two can say the same. A special thank you to John for that chance of a lifetime!
Not only in taking these workshops have Heath, Ames and Jeffrey learned a few dance moves, but they've also become more familiar with the sets making them that much better of musicians for the dancers! A great time was had by all!! A huge thanks to the Milwaukee Set Dance Club for holding this memorable event.
Now watch out cuz you just never know whether you'll find athas on the stage or on the dance floor. ;)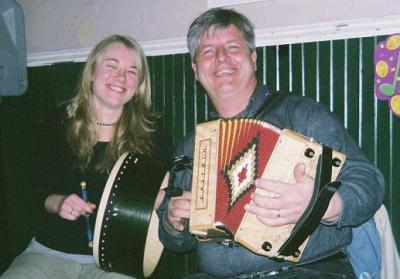 Yes Amy still can't believe it, but she got to play w/John Whelan for the set dance! A-MAZE-ING!!!